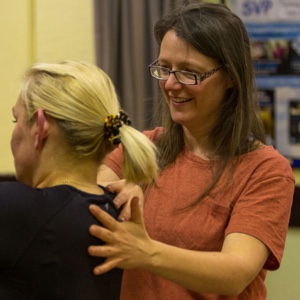 My name is Claire Mace, and I run Inspiratrix Yoga and Training. I am based in Bethesda in Gwynedd in North West Wales. My yoga classes and workshops focus on enabling participants to practice at their level, working at their edge gently and compassionately.
The yoga I teach combines elements of Forrest Yoga, which is more dynamic and heat-generating, and Restorative Yoga, which is more down-regulating and nourishing. 
In my classes and private one-to-one lessons, I always aim to teach in a way that is fun, alignment-aware, and safety-conscious, and which is also personalised to the needs of the individual. 
I firmly believe that yoga is for everyone, no matter what your age, weight, or flexibility. There is always a way to work gently and safely with your body to find more space within and release stress and tension. Yoga can be a great tool for unwinding the stresses and imbalances caused by 21st Century living.
I began my own yoga journey in 2000 and quickly discovered that classes helped soften my mood swings and ease my constant physical tension.
I embarked on my teaching adventure in 2010 with an 18-month Hatha yoga teacher training course at Triyoga, Europe's biggest yoga studio. 
In my search for a deeper way to heal emotional and physical issues, I have also completed over 600 hours of training in Forrest Yoga, studying with both its creatrix, Ana Forrest, and Forrest Yoga Guardian Sandra Robinson (Heider).
I've also studied directly with Judith Lasater, the world's leading Restorative Yoga trainer and Eleanor Criswell Hanna, one of the pioneers of the somatic approach.
I also work as a massage therapist, storyteller, and singer. Previously I have worked as a software engineer, television producer, and theatre manager. I hold an MMath in Computer Science and Mathematics from the University of York and an MA in Media Management from the University of Leeds.
If you'd like to find out more or make a booking, please do get in contact.