My first class was on Anglesey with local teacher Elaine Powell. I was fourteen and my mum was in her thirties. We were the youngest people in the room, everyone was older.

We really enjoyed it, but we ended up giggling in savasana, because we'd never experienced anything like that before.

I remember doing a shoulderstand at one point, and feeling really powerful in my body, which I'd never experienced before as a teenager.

I wasn't madly in love with yoga to begin with, it was a slow burning love. And I've never looked back!

Lowri @livingwell_lowri teaches for Inspiratrix Yoga on Mondays 5.45pm-6.45pm on Zoom.

Her classes encourage you to work towards strength and mobility in a way that is gentle and soothing to your nervous system. Beginners are very welcome.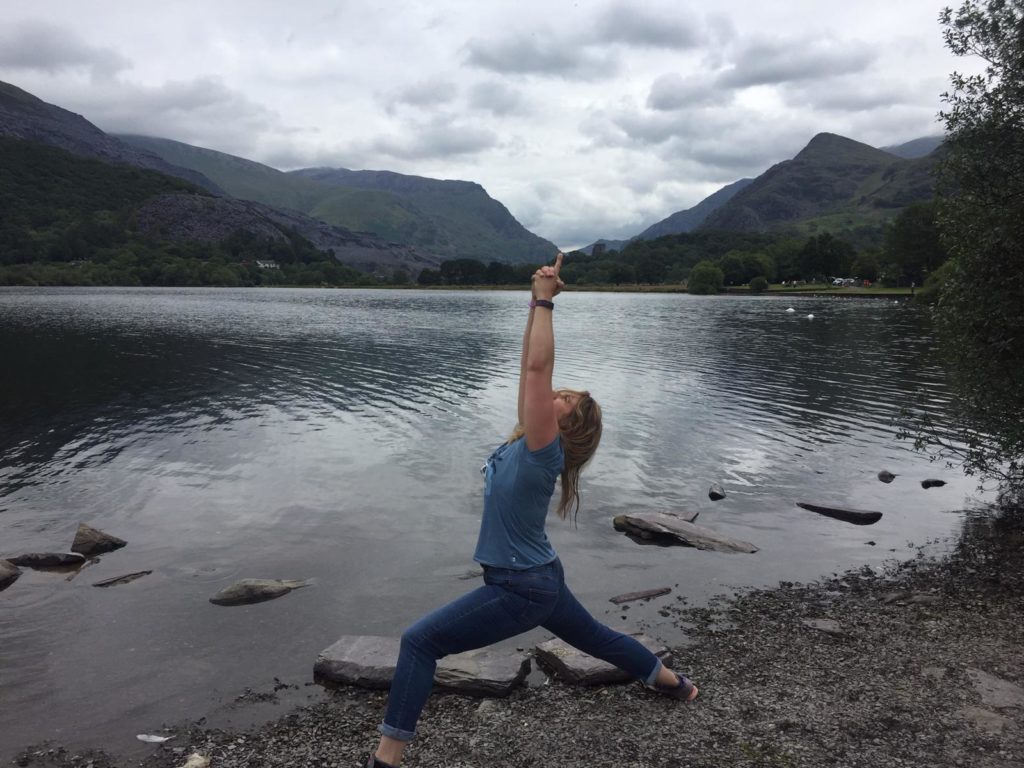 You can join this class as a "drop in" £8 (or £4 if you need to pay the concessionary rate).
Or join our fabulous "All the Yogas" monthly membership to get access to this class and loads of others with Claire, Adrian and Lucy.

The past couple of years of chaos led us to create "All the Yogas", to help people keep strong, supple and sane, whatever the post-Covid era brings.
What you get access to:
* Lots of live, personalised classes a week on Zoom 
* 100+ recorded practices in our Virtual Vault 
* In-person in Bangor, Valley, Holyhead and Aberffraw 
* Monthly pop up workshops and special events
This is for you if you want flexible support in committing to a regular practice in order to improve your physical and mental health through yoga.

It's not for you if you're after super-advanced yoga, we aim to teach classes that are safe and accessible for beginners and improvers.

You get to chose what you pay per month – we appreciate the Covid-19 era has been challenging for many and has widened the inequality in our world:
* ORANGE rate – £49 a month – the "I feel generous" rate
* GREEN rate – £29 a month – the "regular" rate 
* PINK rate – £9 a month – the "not working/financially stressed out by Covid" rate

Taking steps to support your health is vitally important. It's not something to put off until next year or "when the time is right" or "when I'm less busy". 

Join us, come to some classes and feel the benefits of better sleep and reduced stress – plus you'll feel more strong, flexible, and toned.
Book in for a class with Lowri or join the membership here